IEVADS PRASĪBU INŽENIERIJĀ. Mācību līdzeklis
Anotācija
Metodoloģijas un modelēšanas valodas ir tikai izstrādātāja darba instrumenti. Pārzinot un spējot savlaicīgi un efektīvi pielietot tos, viņš var radīt vēlamo sistēmu. Turklāt efektīva sistēmas izstrādāšana paredz ne tikai teicama gala rezultāta sasniegšanu, bet arī ieguldīto līdzekļu, darba un laika apjoma lietderīgu izmantošanu.
Šīs grāmatas mērķis ir nevis iemācīt viennozīmīgi "pareizus" programmatūras prasību noteikšanas, aprakstīšanas un dokumentēšanas paņēmienus, bet dalīties pieredzē, lai topošais programmētājs spētu izveidot pamatu tālākai personīgai attīstībai un stimulētu labas prakses apgūšanu.
Downloads
Download data is not yet available.
Bell, D. (2005). Software Engineering for Students: A Programming Approach. Addison-Wesley Longman Ltd.
Chappell, D. (2008). What Is Application Lifecycle Management? Ielādēts no http://www.davidchappell.com/WhatIsALM--Chappell.pdf
Cockburn, A. (2000). Writing Effective Use Cases. Addison-Wesley Professional.
Dennis, A., Wixom, B., & Roth, R. (2012). Systems Analysis and Design. Wiley.
Oxford. English Oxford Living Dictionaries. Definition of actor in English. Pieejams https://en.oxforddictionaries.com/definition/actor
Getchell, S., Hargrave, L., Haynes, P., Lubrecht, M., Kazmi, P., Oikawa, R., . . . Short, M. (2002). Microsoft Solutions Framework White Paper: MSF Process Model v. 3.1. Ielādēts no https://www.microsoft.com/en-us/download/details.aspx?id=13870
Gupta, P. (2005). Structured System Analysis and Design. Laxmi Publications.
Kettenis, J. (2007). Getting Started With Use Case. Ielādēts no http://www.oracle.com/technetwork/testcontent/gettingstartedwithusecasemodeling-133857.pdf
OMG. (2011). OMG Unified Modeling LanguageTM (OMG UML), Superstructure. Ielādēts no https://www.omg.org/spec/UML/2.4.1/Superstructure/PDF
PMI. (2015). Business Analysis for Practitioners: A Practice Guide. Project Management Institute.
Roger S., P., & Maxim, B. (2014). Software Engineering: A Practitioner's Approach. McGraw-Hill Education.
Wiegers, K., & Beatty, J. (2013). Software Requirements. Microsoft Press.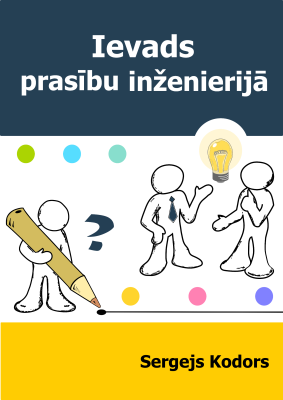 Copyright (c) 2019 RTA
This work is licensed under a Creative Commons Attribution 4.0 International License.
Details about this monograph
ISBN-13 (15)
978-9984-44-226-6
Publication date (01)
2019-02-13